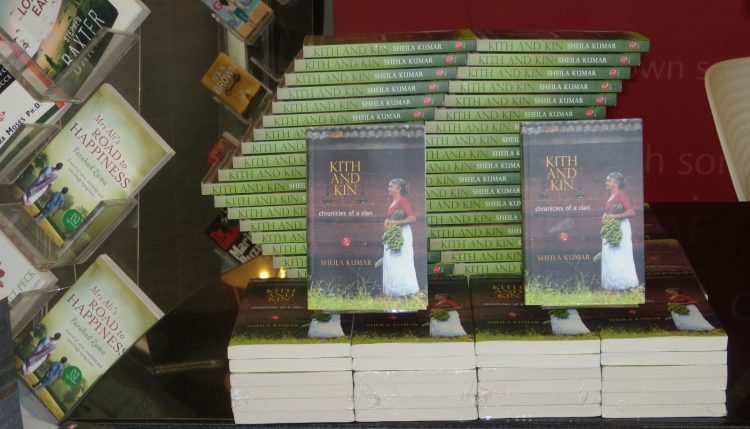 0
Kith and Kin
Kith & Kin is a collection of nineteen short stories that stand well enough alone but all of them are connected: they have characters belonging to one clan, the Melekat clan, an old Nair family belonging to an unspecified town in south Malabar.
The lynchpin in the book is the matriarch, Ammini Amma, a woman of considerable strength and beauty. Her tangible presence is like a ticker tape running through the stories; her siblings, her large brood of offspring, her descendants down one or two generations, all form the jigsaw puzzle of the book.
Irate men, whimsical women, people trapped in their own time zone, people trapped in pubs, cuckolded wives, cuckolding wives. A wannabe journalist in search of the perfect story, a girl in search of a husband, a woman in search of a reason, any reason, to leave her husband. A love story that moves in expected ways, then veers off down an unexpected path.
Most of these people are as normal as normal goes; some are troubled, some wacky, some plain weird. There is love, laughter, betrayal, hurt, anger, meetings, partings, there is even a ghost- with- a- difference.
Meet the Melekats. They are people like you yet very unlike you.
How the Author Announced it on a Social Networking Site
LONG VERSION: There were days when I'd wake up with words sentences, character eccentricities pouring out of my head so one day I set down a pack of short stories in bits and pieces and then timorously hawked it and then one publisher was kind enough to… okay, CUT!
SHORT VERSION: Guys, my book of short stories titled `Kith and Kin` (Rupa Publications) will shortly hit bookstores, Flipkart, Amazon, et al. Here's a sneak peek of the cover, front and back pics by the amazing Shanavas Pn.
Launch Snapshots
The Book toured multiple cities and had a very successful launch. Below are some snapshots from various launch events:
Buy the Book Online
Book Reviews in Media/Press
Reader Reactions
It`s been almost five years since K & K set off on its journey into the world and I`m still receiving feedback of the best kind! So overwhelmed by those who pick up and read a copy of the book and then take the trouble to call or drop me a line.
                                       Sumathy, Bangalore
I LOVED Kith and Kin very much. I could relate to a lot of the Kerala practices since my in-laws are from Palghat.
                                                          Kesang d La, Bangalore
You will have at least met one or two of the Melakats somewhere, sometime in your life. Poignant story-telling,  about a clan in Kerala where each character exudes strength, weakness, and a whole lot of (Melakat) pride. Bound by Mon Repos, their ancestral home and the spirit of Ammini Amma, the matriarch of the house, Kith and Kin serves as a cultural revelation for those unfamiliar with the strength and fortitude of Kerala women!
                                                         Akshita on Good Reads
I got Kith and Kin ages ago but just finished reading it. Enjoyed the book a lot . What I liked was how all the characters soon become known to the reader as members of one big family. I`m not a south Indian but the characters in the book could have been my uncle, aunt, mother and in the case of the father in Guru Cool, my father! This was a good read.
                                                       D Kalyanaraman, Bangalore
 A brilliant string of loosely interconnected stories told brilliantly.
                                                               Jay on Amazon
A very nice read ! It was such fun to go into a typical Tharavad Home of Kerala and get to know all the complexities within the life of each member of the family. Once you start reading this book, you cannot put it down till the end and then you want more ….. !!!
                                                           Gemma Burman, Bangalore
Reading Kith and Kin. Quite a story, one which keeps you in its grasp, wanting to know more. Looking forward to reading more about the Melekat family!
Meanwhile,  finished your book! Enjoyed it and waiting for your next one. Your characters are all beautifully drawn and a lot of them strike a chord. You are one of life's observers! 

Winona Melin 

Hi ma'am, I adore ur book Kith and Kin. Everytime I read a line in it I feel it afresh. I always want to keep it as my Bible. Whn I first found u on facebook I wanted to send a message bt my English is nt fluent so i hesitated. Bt I wanted to convey all dese… plz pardon my mistakes.

Mrs Nambiar, a former schoolteacher at my school, St Francis Xavier`s, Bangalore

I just finished reading Kith and Kin, and felt I had to call you. Thoroughly enjoyed reading about the Melekat clan and some of the characters were people one could identify with. Congratulations on the language, too…I had to actually consult the dictionary for a few words!

Paul Mathew, Chennai
I have been going through your book and enjoying it thoroughly. Many of the characters are very real and recognisable and the humour often dark and hard hitting. Will send you a longer note after I finish. It is by no means an easy read as I initially thought. I feel the need to read it slowly, relishing all the imagery . . .

Manjul Madampath Menon, Bangalore
I read this book at one sitting. The language was familiar, the stories engaging. At the end, there were questions and impressions jostling for attention in my mind. I had to let them brew before I came to an appreciation of what was being said.
I loved the glimpses into each character, the quick insights, the author's voice. Most of all, I saw how easily it could have a novel, with the characters and their interrelationships laid out for us.
A satisfying read, thank you Sheila!

Nitya Sivasubramanian on Good Reads. (She rated it 5/5)
Much like sitting down for a chat with an old friend, this wonderfully gossipy little book wanders from one member to another of a large old family, detailing the strange tales that make a family real. From woman in a pool to a man at a reunion dinner, no story is over told, over detailed, overly fleshed out. Instead, the reader is simply offered a little glimpse of a moment, a turning point, or a single realization, that allows the reader some, but not full, understanding, much as a person can never fully understand another. A wonderfully easy read, I was only disappointed when I realized I had come to the end and had no more to learn about the vaunted Melekat family.

Malini Menon, Coimbatore

Fifty pages into your book..and boy! am I loving it!!!!..) Felt like I was quaffing down wonderful gulps of chilled beer on a hot, sticky afternoon… Sheila, I absolutely adore the way you write! Cheers to your book launch! Each character so deftly drawn and so lifelike..almost makes you believe that there is indeed a Melekat tharavad somewhere out there in God's own country!
Jayanti Prakash, California

Wow! What a book, totally transferred me to a typical household with all its eccentricities. It was interesting but wanted to know more about the different interesting characters. Loved the fact that the women were all strong and quite independent or least managed to get their way !!! I have always regretted not having a large family in Kerala with the typical Tharavad (as everything was solid when we were young) so I must say thanks for giving me an insight into a typical large family.