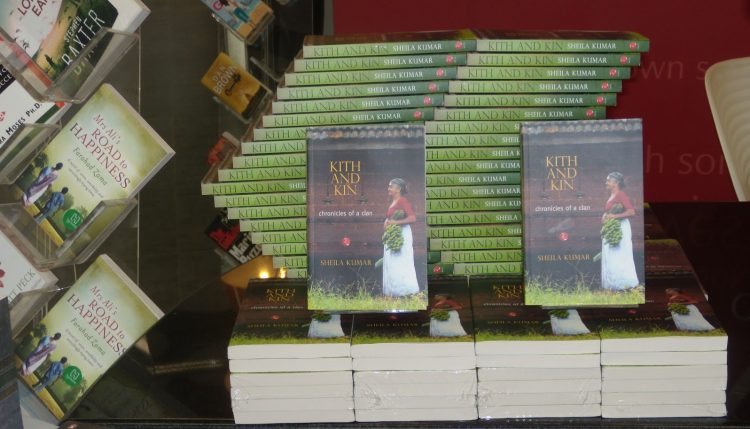 Kith and Kin: Readers revert
Kith and Kin, chronicles of a clan
Kalyanaraman Durgadas, Bangalore
I just finished reading your book. I loved it! Your language, the characters, the flow of the stories…it`s a book to be savoured.
Susmita Srivastava, Jaipur
Half through it, so can't comment completely, but I am so enjoying the quiet mindscapes. The delineation of character through thought rather than events seems to be Sheila's thing.
Achla Sawhney, Satoli, Uttarakhand
I have just finished reading K & K. Was looking for you in the stories!
After the first couple of stories, I became a part of the Melekat clan and got totally engrossed. A couple of stories really brought a pang in my heart..e.g.  the ones dealing with geriatrics. It reminded me of the Panchatantra stories, which one had read in childhood, the thread of one story unravelling to form another..that was nice. Overall, a good read but I have a complaint: why did Suvarna and Sumant have to die so callously in the end?
All the stories were so real, at least we could have had a fairytale ending!!
Haha , just joking, finished it last night and kept thinking about it. Which is a good thing because  you managed to make the characters so real.
Justine Hardy, London
Finally have Kith & Kin in my hands, after it did the rounds of the family. Just read `Colours` and loved it.I'm not going to pontificate on every story but 'On the Bench' is exquisite, heart-rending and so profoundly human, profoundly touching.
Jayshree Shankar, Kochi
Just read K and K and so enjoyed it. It's ideal journey reading.

Sudha Gundan Chandrashekar, Coimbatore
Just finished reading your book and I loved it. It was unputdownable!!
David, on GoodReads 
A nice ride on nostalgia. It does have a lot of characters but then the clan Sheila talks about is large. It's telling as short stories does make it more accessible and I didn't find all those Malayalam terms problematic either, unlike the Amit Chaudhuri book I encountered :). Well, it probably has to do with being familiar with those terms.
Oh, yes, the book does enliven all those lovely memories of that land and it's some what crazy people. they stare, for one. And how do you end a book like this – with some good ol' vedikattu!
 Revathi Siva Kumar, Bangalore
Sheila, at last, I read your K&K book. Loved, loved it. Your insights into human nature, your characterization, descriptions, the colours, the smells and the sights– they are a feast to every sense. It's a marvelous chronicle, indeed.So…when is your next book out??
Shrikant Rao, Mumbai  keeps it short and succinct!
Lovely book, Sheila.


Malini Menon, Coimbatore
Fifty pages into your book..and boy! am i loving it!!!!..) Felt like I was quaffing down wonderful gulps of chilled beer on a hot, sticky afternoon… Sheila, I absolutely adore the way you write! Cheers to your book launch! Each character so deftly drawn and so lifelike..almost makes you believe that there is indeed a Melekat tharavad somewhere out there in God's own country! Delightfully refreshing!
Soniya Robin, Sriganganagar
Dear Mrs Kumar…..read the review…cover page is simply great
…content has to be beautiful since its written by you….
excited  and just can't wait to read the whole book.
Pavithra Prakash, Bangalore
K and K is an awesome depiction of expressions and feelings..loved it.
Seema Nair, Trivandrum
Just finished reading 'Kith and Kin', Sheila….LOVED IT!! Started it last night and couldn't put it
down till I'd turned the last page. You've fleshed out each character so beautifully, I felt you were writing about uncles and aunts in my family! So….start on the sequel NOW!!! Can't wait..
 Loni Agarwala, Guwahati
Sheila, only you can get away with it, how I loved it! Beautiful racy, and style is SK, only SK!
Sunita Malik, Singapore
A book written by my sister in her usual lively, colourful and descriptive style that makes u feel u are a live witness to all the stories and a part of it. Out in stores and on Amazon and flipkart.
Jisha CV 
Finally received my copy of K n K…the timing couldn't be more ironic.I came home to bid our beloved Janaki Amma adieu..reading each story brought upon such varied n deep emotions…Thank u Sheila Kumar for Kith & Kin.
Jaisim Krishna Rao,  Bangalore 
Her inimitable style, reflected in this collections of stories, explores a lifestyle that is vibrant and as varied as this country's cultural heritage and physical topography. A great and deep read.
---
I can't stand it. NO ONE has remarked on the two conceits I buried in a couple of stories in Kith and Kin. 
Sigh. I might as well do a partial disclosure.

The green-eyed two-timer Sindhu was seeing in Kingfisher Morning? He makes an appearance in another story, dating yet another comely Melekat woman. 


Anita, the journalist and wannabe writer, the `heroine` of All Those Doors, has a clear idea of the plot and structure of her next book. It involves a beautiful woman getting some devastatingly bad news in a particular room. The room is described in enough detail in the last story.


Guys, I gotta tell you, there is nothing as blighting as conceits that pass unnoticed into the night. #Dramatically biting back a sob.

---

 
Leeza St Soutaine Harris, Madras
Congratulations on a wonderfully delightful book. I found "Kith and Kin" to be full of colourful characters but at the same time it had very "real" situations that I could relate to and understand. K&K….to me was also like a 2-in-1 kind of book because one could read a chapter and get a story out of it and at the same time read the entire book and get a much bigger story from it! (just so that you know…I finished the book at one stretch)…it was that interesting 🙂
I loved the ending. Quite honestly when I started the 1st chapter I could not help wondering how the end would be conceptualized….( that is just me being me with my habit of trying to second guess all authors). You surprised me and I think it was a great way to end the story!
Andaleeb Wajid, Bangalore
I finished reading Kith and Kin last night and enjoyed this huge tapestry of complex people that Sheila has brought together. It's fascinating how everyone is connected together and in relation to the matriarch Ammini Amma whom one never really sees fully. It's a very well thought out collection of stories, especially since they're related and characters from one pop up in others all the time. The ending – I'm rather ambivalent about it. The writer in me approves the 'closure' but the reader in me was very shocked. 🙂
Clara Jacob,  Vancouver
I am so enjoying Kith and Kin…literally restricting myself to a couple of stories per day so that I can extend the reading time. What an accomplished piece of work, Sheila.
Sangeeta Menon, Hyderabad
Picked up Kith and Kin a couple of weeks ago… loved the evocative flow of language.
Rajee Muthukrishnan, Chandigarh 
Reading k n k! enjoying the wickedly twisty ends to each story!
T V Shivkumar,  Mumbai
K and K was a good read… though for me, it felt like going back to childhood myself! Similar conditions. Different folks. Now you gotta write a sequel about the next gen Melekats!
---
K and K got comments from two lovely octogenarians, Mrs Krishnadas and Mrs Seetharaman in Bangalore. Both found the stories absorbing, said they could easily relate to the Melekats and had many flattering things to say about my word-wielding skills. This is special praise and most appreciated. 🙂

---
Geetha Jaiprakash, Coonoor
Just finished reading K and K, Sheila. Lovely book. You've covered quite some issues and I like that a common thread runs through all the stories. It's an honest look at life and my personal favorite was the story titled `Locked in Step. `
Shefalee Vasudev, New Delhi 
Hi Sheila, Just about finished your book. Particularly enjoyed Kingfisher Morning a lot, as also Cast in Mourning and Passing Through. There is a lot of detail, observation and insight that creeps up while reading these stories. Very well done, I must say.
David Tee 
I read your book, totally enjoyed the ride, totally. Well, it helps to know some Mallu quirks.
Hope you write a lot more.
Padmini Mohan, Hyderabad 
Your 'Kith and Kin' is a lovely book….enjoyed reading it.
Kamalakshi Agarwala, Bangalore
Your book was a great read, so many characters and so many stories. Very interesting. Looking forward to the next book!
---
So we were watching the organized chaos in the concluding part of Skyfall and Kelly, my daughter,  turns to me and murmurs: "Ah. In the best tradition of Tara, Manderley and Mon Repos." I sat through the rest of the film with a goofy smile on my face. Gotta love The Kid, I tell ya. 🙂 

---

                                 
Col Madhavan, Salem
I really enjoyed the book. The stories so resemble doings and happenings in any "good" Nayar Taravad. But I did miss that Sindhu connection till you pointed it out. Probably because I took my time reading the book. Do go further back in time for your next book. The way you write, those 'grandma' stories will really come to life. All the best.

---
My Tai Chi instructor Kaustav Guha, Bangalore,  has a most interesting take.
"The characters in Kith and Kin seem all trapped in the matriarch's shadow in some way or the other. Everything they do is a sort of reaction to being in Ammini amma's long shadow."
***************
This bit about the family in Salman Rushdie's Joseph Anton ties in neatly with the family as depicted in Kith and Kin: 
The family was not the firm foundation upon which society rested but stood at the dark chaotic heart of everything that ailed us. It was not normal but surreal; not humdrum but filled with event; not ordinary but bizarre. Edmund Leach, Provost at King's College, had said: `the family, with its narrow privacy and tawdry secrets, is the source of all our discontents.`

---
Eimhear Collins, Drogedha, Ireland
Hi Sheila, I am reading K and K, and I love it. I keep it in the car with me and grab a few pages every day. Its a nice escape and the characters are wonderful, love the way you get inside their minds. Its so easy to dip into and enjoy.
---
Stray thought: The one word almost all those who are reading or have read Kith and Kin use is: enjoyable. So happy that makes me…..     

---

                    
Mrs Nithila Masilamani, former HoD, English Lit, Women's Christian College, Madras
I so enjoyed reading your book. You have a piercing insight into the character traits of people and that has been expressed so well in Kith and Kin.
Kamini Sawhney, Mumbai
Congratulations – you write a book while we sit and suck our thumbs. Really enjoyed reading it. The book passes the acid test ….you want to read on. Your endings were all superlative, many of the stories very compelling.
---
So, I go to my library, Eloor. And on their notice board is a newspaper clipping on Kith and Kin. Can't stop smiling…..     

---

                                                                   
Shreekumar Varma who introduced Kith and Kin to Madras
It's like a family tree with branches full of succulent fruit, a novel chaptered into short stories. These days,  I read only books that are sent to me for reviews. This is one exception, and I read it with pleasure.
Rema Tharakan, Kochi
Loved Kith and Kin. Was waiting for a book from you..have always enjoyed your style with narrative. Keep writing while the brain is still adrenalin packed!
Anand Doraswami, veteran journalist, Bangalore
It was a great read, very well written (as is everything by you). If I had a problem, it was keeping track of all the characters and their interconnections. I'm sorry to say my memory is not as alert as it used to be!
Suchitra Iyappa, Bangalore
K and K is perfect `journey reading.` You delve into the saga of the Melekats and before you know it, you have arrived at your destination!
Bindu Bhaskar, Madras
Delighted with the book so far. Clan members come alive, warts and all, but with much affection and irony. It also has so much of you in it, the wry observations laced with sardonic wit.
…and after she finished the book: 
Your book was unputdownable and the later chapters get understandably gritty. The dark side is as gripping as the light side.
Jaishree Misra, New Delhi
Sheila, I've been reading and enjoying Kith and Kin. An unusual idea, interlinking stories from within one family. Best wishes with it.
Joe Tharakan, Kochi
Just finished your book, Sheila. A whole lot of characters for the reader to keep track of but what a fabulous piece of writing.
---