0
A Gluten-free Life
A Gluten-Free Life: My Celiac Story by Jeeva Anna George with Sheila Kumar
Should you be consuming gluten?                
Do you know whether gluten suits you?
Are you suffering from celiac disease and don't even know it?
When Jeeva was diagnosed with Celiac Disease, she realized just how hard it was to find food that suited her. Every trip to the grocery store was an arduous exercise in reading ingredients and researching the effects of certain foods. She also discovered that gluten-free food was expensive.
Jeeva understands the nightmare of living with celiac disease in India. To her, gluten-free is neither a fad nor an allergy. It is an auto-immune disorder – a disorder that can only be controlled, not cured.
This book is her journey of trying to lead a gluten-free life while dealing with a condition that goes largely undiagnosed but affects 1 per cent of the world's population. In A Gluten-free Life, she unravels the secrets behind ingredients found in most foods, gives practical tips on how to avoid gluten and most importantly, helps us better understand celiac disease.
About the authors
Jeeva Anna George is a Master's in Economics and International Economics from the University of Nottingham, United Kingdom.
Her professional experience includes her handling the economic and public policy affairs desk at Confederation of Indian Industry, Karnataka, and working with market research firms. Her Passion is to drive awareness on the gluten-free lifestyle in India. As a Celiac, she understands the challenges and hopes to improve the nightmare of living with this disease in India. To her, gluten-free is not a fad or an allergy. She now heads, Jeeva – A Gluten-free Venture. She was awarded 'AnthahPrerana', an Award by TiE Bangalore Chapter in November 2013.
Apart from her focus on making India more aware of hidden diseases and supporting people with food intolerances, she is also an avid quizzer and a singer trained in Carnatic and Western music. You can see more of her work at www.facebook.com/GFIndia or www.glutenfreeliv.in
 Sheila Kumar is a former advertising copywriter turned journalist, independent writer and manuscript editor, as well as author of a collection of short stories titled Kith and Kin, Chronicles of a Clan,  the novel No Strings Attached, as also an upcoming work of fiction. Her webpage link is www.sheilakumar.in
Paperback | Self-help | 224 pp | Rs 299
---
   THE BOOK LAUNCH AT THE HUMMING TREE ON SUNDAY 3 JUNE 2018.
The book…..
The authors…..
Jeeva and me with Chief Guest Shradha Sharma of YourStory  and Vidhi Kundan Jain of Book & Brews who put the event together most deftly.
I haven`t enjoyed a Q and A more in recent times……
With Shobha and Asha…..
With Tejaswini…..
Stalls at the event: Mills & Brown with their amazing array of gluten-free foods
Jus` Amazin with their scrumplicious butters and suchlike…..
Areev`s lovely collection of lotions, potions, soaps and balms.
And the books were all sold out by the end of the event!!
---
    Snapshots from the book event at the Book Bound Book Club on 09 September 2018.
Buy This Book Online
---
The Book Review Literary Trust reviews the book.
Food Lovers magazine reviews the book.
A Gluten-Free Life
According to Celiac India, the prevalence rate of Celiac disease (the allergy to gluten) is around one percent globally. In India, the ailment was considered to be more prevalent in North India, and only in recent decades has it percolated into South India. The diagnosis rate of Celiac disease stands at just 5% since its symptoms are varied and often related to more common illnesses of the gastrointestinal system. Jeeva Anna George was among the 5% diagnosed, that too after having suffered the ailment for a long time. A Gluten-Free Life is her story, written along with Sheila Kumar.
Food literature in India today has evolved to include a lot of personal narrative and this book is a hitherto untold story of living life with Celiac disease. Sure, we have heard of restaurants and menus including gluten-free options, but we all need to realize that these options have much more to them than just being a means to potential weight loss.
The book is a personal account of how Jeeva lived with Celiac disease, undiagnosed for a long while, the emotional turmoil of being constantly unwell and the effects it had on her personal life. All this, till she was rightly diagnosed and now had a sense of direction in terms of streamlining her life as far as her diet is concerned.
What the book has going for it is that it is a personal account and so hits the right chords in terms of connecting with an audience. It has a 'Dear Diary' style, a bit over dramatic and slightly repetitive in terms of the various food situations faced and how it was solved. That said, it puts in words, emotions and mental conversations you have with yourself when in trouble, quite well.
For those who suffer from the ailment and even for those who don't, the book is comprehensive in telling you why symptoms are misdiagnosed, how you can get your life back on track in terms of diet, how to read labels and why it is important, how you can plan travel, attending parties and ensuring that the "forbidden foods" list does not prove a dampener in any situation.
It touches topics you would otherwise not have thought of – such as looking for gluten components in products that you wouldn't have thought had them. Take Hing for example – the processed powder form contains maida! Processed oats can be cross-contaminated with wheat because they are harvested together.
The book includes a set of recipes with easily available ingredients that achieve as close to the original recipe taste as possible. An index for them would have been a helpful addition though.
A Gluten-Free Life gives everyone a solid look into the world of a person living with a food ailment that is not really well understood. It helps makes things clearer and may even be useful to others who live with food allergies and are looking for ways to make sense of it all and live happy lives.
A Gluten-Free Life – My Celiac Story
Jeeva Anna George and Sheila Kumar
Harper Collins
Rs 299
HINDUSTAN TIMES gives our book a heartening thumbs-up!
How to live guilt- and gluten-free, in India
A new book by a celiac offers humour, relatable advice and much-needed encouragement.
BOOKS  Mar 25, 2018 
A GLUTEN FREE LIFE: MY CELIAC STORY
By Jeeva Anna George with Sheila Kumar
Publisher: Harper Collins
Price: Rs 299 (Paperback)
What is it like to try and live without gluten in India — without chapatis, kulfi… or heeng.
Jeeva Anna George's account of reordering her life after a diagnosis of celiac disease is readable, relatable and helpful. It takes the reader on a journey of how a random bunch of symptoms coupled with constant diarrhoea were finally diagnosed.
Rather than listing what a celiac can and cannot eat, A Gluten Free Life by George and Sheila Kumar provides tried-and-true tips on how to manage the change, the mistakes George made, and the ways in which gluten can sneak into your diet when you're not looking.
There's advice on how to read labels right, details from food manufacturers she contacted (some of which you can also access on the Facebook page she created so others would not have to go through the same grind).
The one thing she's still struggling to come to terms with, she admits, are her absurdly high grocery bills. George says she pays 3 to 14 times as much for gluten-free products. Even her husband, who barely paid attention to grocery prices, noticed the change.
With practice, you will learn what products are absolutely necessary and which one can be left off the list, she says. You will learn how to cook gluten-free, and the book offers recipes to help you get started (including, mercifully, one for gluten-free puris). Finally, George offers 20 very useful pointers for living a good gluten-free life.
"If it has been a month since you went gluten-free and you do not feel any difference do not become anxious," she advises. "The healing process is gradual."
https://www.hindustantimes.com/books/how-to-live-guilt-and-gluten-free-in-india/story-9zqUkoYETMbLnhLsiMYRxM.html
---

                                                                     5 April  2018
GOODBYE GLUTEN
In the world of health-conscious eaters, "gluten-free" is the new catchline to watch out for. How bad is gluten, what is a gluten-free diet, who needs it, does everyone need to be free of gluten or is it just a fad? There's not much clarity on some of these questions and that's where Jeeva Anna George and Sheila Kumar's A Gluten Free Life: My Celiac Story comes in.
Armed with a degree in economics, George, who has celiac disease, has worked with several market research firms before starting her gluten-free venture, Jeeva. In the book, she talks about her journey of living with celiac disease, her gluten-intolerance and her ups and downs because of it.
She addresses "gluten-free" as a serious problem that needs to be addressed; it's something that "can be controlled but not cured". And so, the book is a self-help guide for people with celiac, detailing the importance of reading labels to being aware of what you put in your body, peppered with her "life lessons".
George gives readers advice and tips on how to go "gluten-free" in every other aspect of their lives, from diet to personal care, and also how to deal with the disease, from travelling to caring for child with the condition.
What'll come in handy are the curated recipes for a gluten-free diet — there's ragi pancakes, bread, rotis, pizzas and brownies… to sum up, all the things you don't want to give a miss. Famous personalities like tennis stars Novak Djokovic and Andy Murray feature in the book too.
---
In THE HINDU METRO PLUS                                                    
And today the co-author of A Gluten-free Life indulges in herb-talk in Metro Plus' On The Table column….
Jhambu: This herb is a member of the onion family, and is also known as jimbuin Nepal, says Sheila Kumar. "It blooms with pretty pink and purple flowers currently in season. The leaves and the entire flower head are dried and stored to be used later," she explains. "Dalflavoured lightly with jhambu gives off a delicate fragrance, redolent of both onions and chives. If you are using a pinch of the spice in your dal, do not do the full tadka (tempering). All it needs is a little turmeric, salt and chilli and a smidgen of ghee poured over it, and it's ready to serve," she says.
---
A thumbs-up for the book from The Tribune!
Grain of truth
06/05/2018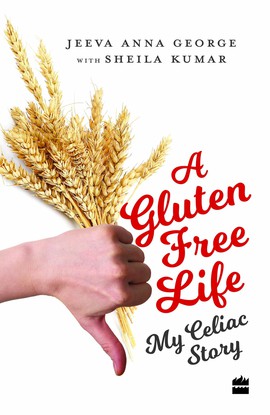 by Harvinder Khetal
The life of celiacs (gluten-intolerant people) revolves around food. Perhaps, no other category of people discusses food as much as we celiacs do. The initial introduction of two celiacs broadly goes this way: how were you diagnosed with the celiac disease, what were your symptoms and how long did you suffer before feeling the relief that comes from giving up gluten from the diet. Thus, one has already entered the eating zone.
So, it is natural that when Jeeva Anna George, a celiac, should write a book on her story, a major part of it would deal with food.
Her partner in writing and editor, Sheila Kumar, has wisely let Jeeva be, helping her steer the book by smoothening the rough patches.Also, not just food, we even devour any information regarding gluten-free living. Information is our lifeline…and, unfortunately, it is not always credible. With every new product in the market, we face that all-important question: is it gluten-free? And, the first thing we do is check its ingredients.
Then we cross-check on the social media with fellow celiacs, who are always patient in dealing with such queries. With the norms of labeling of food items in India not quite matching the strict standards required by celiacs, for whom even a grain of gluten-containing wheat, rye or barley is enough to cause havoc in their body, this lapse is a big disadvantage. In such a situation, a book rich with the experiences of a celiac is a treasure, a handy go-to reference point. It is no surprise that a whole chapter is dedicated to 'reading labels'.
And, since India-centric books on the topic are so rare, Jeeva's A Gluten Free Life: My Celiac Story fills a much-needed gap.Celiac disease is an autoimmune disorder that can occur in people in whom the ingestion of gluten leads to damage in the small intestine. Strict prohibition of the villainous gluten is the only remedy. Suddenly, so many goodies made of wheat are forbidden — right from the basic roti, to the bhaturas, puris, most breads cakes, biscuits, etc, all are out.
As Jeeva laments, "I was thinking with a pang that I would really, really miss doughnuts."Jeeva's racy style hooks one to the narrative. Her journey — from suffering as her condition remained undiagnosed for over a year to making a successful business out of that predicament — is fascinating. One feels for the young girl, a Masters in economics from a UK university, as she reveals emotionally how she is forced to give up her job since her sickness had left her with little energy or inclination to drag herself to office. Brain fog, headaches, irritability, diarrhoea — I could relate to these symptoms very well. 
But, after bouncing back to good health following the diagnosis and keeping off gluten, she continued to face setbacks as doors closed on her due to her illness-prone state. Yes, it is common for celiacs to pop in some gluten-laden food inadvertently or by mistake and they are always vulnerable to feeling under the weather.   The rejections turned out to be a blessing in disguise for the lady as she decided to strike out on her own in 2013. She has built her own brand of gluten-free food business, called Jeeva – Glutenfreeliv.in.
The desire to work for and towards the celiac community takes a three-pronged form: Jeeva – Initiatives, Bakes and Guides. She says, "My business is not just about making gluten-free products available to people, it is also offering them information to live a stress-free life, as also spreading awareness." With pithy quips of life's lessons dotting the pages, the account would be a revelation to many. It sensitises the non-celiacs towards the difficulty in finding food that suits celiacs, how costly their food is and how cross-contamination is a real threat and so it is important to keep kitchen and facilities clean of wheat.
The celiacs gain from the tips given for situations at work or while travelling. But the main attraction for the celiacs is the part giving recipes. Jeeva's recipes, firmed up after painstaking trials, for pancakes, appams, pizza, pasta, muffins, momo bags, cookies etc are a treat. These open one to the possibilities of the wonders of so many other grains like bajra, ragi, rice, corn, sorghum, etc. Thank god, for that. Though tough, there's a lot to live by other than wheat, rye, barley and oats. And, thankfully, so many, like Jeeva, are experimenting with producing gluten-free goodies.
http://www.tribuneindia.com/news/spectrum/books/grain-of-truth/584708.html
---
From rediff.
com
Want to go gluten-free? Some tips for you
 May 15, 2018
'Do not feel ashamed. Eat right. Sleep well. Never go hungry.' 
Jeeva Anne George who has celiac disease, explains how she took control of her life.
Celiac disease is a chronic autoimmune disorder, mostly induced due to consumption of gluten proteins. It affects nearly 1 per cent of the world's population.
"Sometimes I had joint pains, and other times, I would notice that my hair was falling, a big blow to someone who always had a head full of healthy, shiny hair. Then, at times, I was spitting up mucus," Jeeva Anna George who was diagnosed with celiac writes in her book A Gluten-Free Life : My Celiac Story which she co-authored with Sheila Kumar.
In the book, the author shares some key pointers to help people deal with the condition and lead a healthy, gluten-free life:
Presenting an excerpt from the book for you to read:
---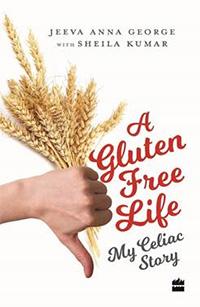 It has been a while since I have gone gluten-free.
When I look back, I wish I had known all the things I now know.
All too unfortunately, people are being diagnosed with celiac disease on a regular basis and have no choice but to adopt the gluten-free way of life.
This, then, is for my fellow celiacs: my twenty pointers for daily living.
1. Know that you are not alone, there are many like you in India and all over the world.
Some are diagnosed as celiacs and some will never be diagnosed, due to a variety of reasons.
Believe me when I tell you, it is better to know. Be happy that you know where you stand.
Before things can get worse, you have cracked the problem. You do not have to inject yourself or take any medication; your condition can be managed by eating right.
2. As of now, there is no known cure for celiac disease other than going gluten-free.
Research is under way in institutions around the world; some institutions claim they have found a cure but the tests are still in their experimental stage.
 There are a lot of claims that Ayurveda, Homeopathy and many other alternate therapies can cure celiac disease but none of these claims have been proved.
Many gullible people have undergone treatments only to find that after six months, their condition is even worse than before they started. I do believe that many of the alternate therapies help in improving immunity and most good Homeopaths and Ayurvedic doctors will tell you the same.
However, they offer no solution to enable you to start eating gluten again. If you just have wheat allergy, though, alternate therapies just might help.
3. If it has been a month since you went glutenfree and you do not feel any difference, do not become anxious.
The healing process is gradual; it takes anywhere between three and six months, sometimes even a full year for some people.
4. There are health benefits aplenty to being a celiac. No, I mean it. You will begin to eat healthy simply because you have no choice.
Speaking for myself and a few of my celiac friends, we all now read labels and know exactly what we are eating, and we tend to eat less processed food and more fresh home cooked meals.
There are a lot of things that I eat today which I could not have imagined eating before I went gluten-free; I eat them now because I know it is good for me, and in some cases, I have happily acquired the taste for those foods!
My immunity has definitely reduced the frequency of me catching a cold, and my coughing episodes have also come down drastically.
I am not anaemic anymore and here's one more thing: I can lose weight more easily while earlier it was difficult to do so even when I tried really hard to do so.
5. Follow a balanced diet with a mixture of whole grains.
It always better to not eat too much of any one grain, vegetable or fruit.
Eating moderately and ingesting moderate amounts of any food ensures the food nourishes the body.
Other than gluten, do not go off any food completely unless you feel it is giving you trouble. This goes for those who are on a normal diet, too: the best approach is to follow a balanced diet wherein you do not depend on one grain or a few food groups alone.
If you are a person who easily and enthusiastically adopts the latest health fad, make sure you research it and understand how it is going to help you.
I would not advice anyone to go off anything unless they have a problem with that particular food, but rather to follow a good balanced diet which includes all the food groups.
Today coconut oil might be anointed the miracle oil, tomorrow it will be some other oil, some other diet. Respect and listen to your body; what works for others might not work for you and vice versa.
6. For those who are asymptomatic, the best way is to get yourself tested, either three months or six months after your diagnosis.
7. I cannot repeat this enough: read labels. It will spare you a lot of doubt and confusion as well as ill-health. If the doubt and confusion persists, I would recommend entirely bypassing the food or ingredient.
8. Maintain a food diary, at least initially. It will help you understand if certain foods do not agree with you, or if something you ate inadvertently had gluten in it.
If you are the parent of a gluten intolerant child, then a food diary is invaluable because when you notice unexplained symptoms, the diary can help you make three deductions:
either something you gave your child has gluten in it
or your child has been cheating on the diet,
or there may be some other food intolerance that has reared its head.
9. Adhere to a strict gluten-free diet and if you feel like cheating, just think about all the horrible symptoms that pop up the moment you have ingested some gluten.
After all, prevention is definitely better than any cure. Then again, do not feel bad if you accidentally ingest gluten, it happens to everyone all over the world. You know what to do next.
10. Carry an emergency stash of ready-to-eat food in your bag, car or office drawer at all times.
11. For young people living in hostels or someplace where you have no option to cater to your own meals, always keep ready-to-eat food so that in case of any problem, you will not go hungry.
Fruits, dried fruit, nuts, gluten-free cereal, biscuits, energy bars can all be stored in your room for emergency situations.
Do not feel ashamed or hesitant about informing your college or hostel authorities about your need to follow health precautions.
You are in charge of your well-being, and for a celiac disease sufferer, safe food is critical.
While speaking to those in charge, always make clear the seriousness of your problem. Also, make friends with the catering staff. A little thoughtfulness and politeness can take you a long way.
12. Plan. Plan. And plan some more. Almost half the stress which is attached to going gluten-free can be avoided if you plan ahead.
If you are a parent, plan your child's meals a week in advance, with alternate options so you do not behave like a headless chicken if you run out of a particular food ingredient or product. If you are travelling, do the necessary planning so you can have a safe, stress-free journey.
13. Working adults, make sure you always have proper — safe — food at all times.
Make sure you eat at the right time, never go hungry and always take the time to go for a small walk, or look away from your screen if you start to feel uncomfortable.
Make sure you get proper sleep that is one thing which will refresh you.
Listen to me, I speak from experience. I learned the hard way that good health cannot be bought and that no job will wait or you if you have to keep taking off from work.
Skipping meals, not sleeping enough and not taking enough breaks is eventually going to make you extremely tired. So, take care of yourself.
14. Always keep emergency medication in your bag, briefcase or pocket.
15. If you are suffering from diarrhoea because of getting accidentally glutened, keep eating small meals throughout the day so you are not very tired by the time you get home. Always remain hydrated. Most people working in air-conditioned offices forget to drink water regularly.
16. It is always good to confide in colleagues you work closely with, and your boss too, about your medical condition. Being open about it will help a lot when you have to go on team outings, travel on work and even while working alongside others.
Also, in case of any emergency, they will know you have a prior medical condition.
17. Stress triggers all sorts of health problems and also lowers one's immunity. I have noticed it in myself and in many others who are gluten-intolerant.
It affects their sleep too, and slowly, the person becomes really exhausted.
One of the things that helps me is to switch off or not use too many electronic gadgets late in the evening. This gets your body to totally relax and not stay eternally vigilant and alert.
For a person like me, who used to always and immediately reply to messages and e-mails, it was very difficult to bring that discipline into my life. But eventually it worked well for me; I sleep better and I no longer have my phone stuck to my ear or scan my mail. It is a great discipline to follow for anyone.
I would also add this: pick your battles. Sometimes we have to do a lot of explaining to make others understand our medical condition.
You will come across people who will act insensitive, even obnoxious. Do not stress yourself out trying to make them understand and do not let that make you feel bad or annoyed. It is not worth it nor are they.
18. Always inform family and friends of your diet restrictions if you are staying over or visiting for a meal. If you do so, you can spend time happily socialising rather than painstakingly explaining your diet to your host at the nth minute, as also anxiously checking out the food arrayed on the table.
19. Network. It is good to meet and make friends with other gluten-intolerant people, so there are enough people who can empathize with you and also share necessary information. There are many eliac support groups on Facebook and other social media platforms which you could join. You could also become a member of organisations like the Celiac Society of India or the Celiac Society Organisation, and many other local and regional organisations.
20. Laughter really is the best medicine. Learn to laugh at yourself and your circumstances. I do not get offended anymore when I face bizarre reactions or comments from people who have not heard of gluten intolerance. I laugh it off and share the joke with others who get it; this way, it helps them and me look at various ways of spreading awareness.
Excerpted from A Gluten-Free Life : My Celiac Story by Jeeva Anna George and Sheila Kumar with the permission of the publishers, HarperCollins Publishers India.
http://www.rediff.com/getahead/report/books-want-to-go-gluten-free-some-tips-for-you/20180515.htm